Frequently asked questions
How do I log in with phpMyAdmin?
phpMyAdmin is available at the following address:
https://phpmyadmin.domeneshop.no
Login with your MySQL username and password.
If you are logged in to the control panel at www.domainnameshop.com/domainname.shop, you may find a link to phpMyAdmin from the Webhotel tab for the domain in question. Click on MySQL and then the pulldown menu to the right of the database you wish to manage.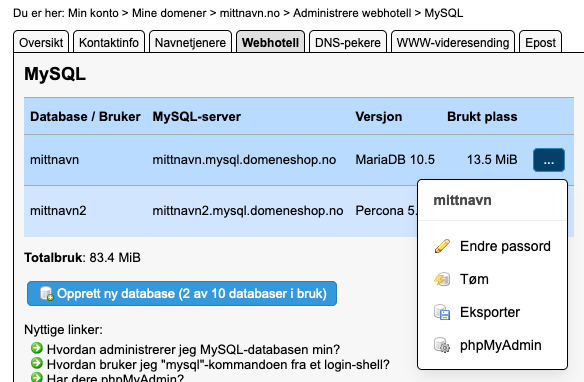 If you do not remember the password, and you wish to login via https://phpmyadmin.domeneshop.no, you must either change the password or try to find the password in configuration files belonging to Wordpress or other software installed to your webhotel.