Frequently asked questions
How do I get started
The Sitebuilder can be used on any web hotel, including web hotel Mini
To get started, you need your FTP username and password.
Click here if you are missing FTP username or password.
This is how you get started:
Click on sitebuilder

Enter your FTP username and password and click "Login"

Select "Advanced" if you want to install the website in a subfolder (This is not necessary if you want to use the website as your main page).

Choose which web address connected to your webhotel you want as the main address, from the drop-down menu.

Select a theme and click "Start sitebuilder"

You can choose whether to install sample pages, or not, at the top left of the page.

You can switch themes at any time by going to the menu item "Design" in the main menu.
Now you can start creating your own pages for the page builder.
You can select the order of the pages as they appear in the menu and which page should be your front page by clicking the house icon.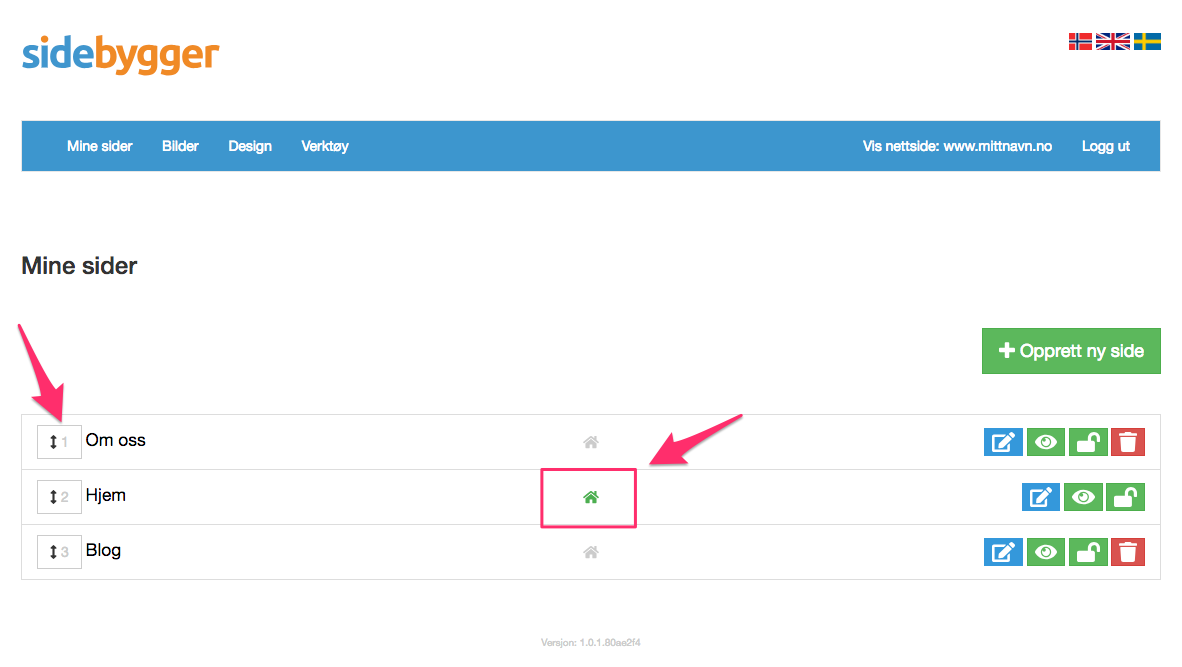 Create and edit pages:
To create a new page, click on "Create New Page" or click this blue box next to an existing Edit page.

At the top of the page, click "Layout" to choose from different layouts on the page. Some themes have just one layout.

To insert content on the page, select any of the open boxes on the page. You can enter text, insert pictures, tables, etc.

Just try it out!

You can also choose whether or not to display the page in the menu.

Remember to click "Save" at the top right when you're satisfied with the page.

Click "View Website" to visit the page in your browser.
Upload your own pictures:
You can upload your own images to your webpage, and these can be used either as a logo or on any of your own pages.
To upload images:
Go to "Photos" in the main menu.

Click on "Choose file", select the images you want to upload from your machine

Then click on "Upload"

The images can be used as a logo under "Design", or they can be placed anywhere on your own pages
See also: