Frequently asked questions
How do I restore my Wordpress site using backup from Akeeba?
Akeeba Kickstart is a script uploaded to the web site and used to extract the JPA-file that you generated with Akeeba Backup. If you have not installed Akeeba Backup, please read more on this page.
Follow these steps to restore your Wordpress site:
---
1. Download Akeeba Kickstart
Akeeba Kickstart can be downloaded from this site.
2. Preparing files

The image shows a sample from the FileZilla FTP program. Have you followed the steps above, you can drag the file kickstart.php over and into the rootfolder www on your webhotel. Here, the backup file from Akeeba (with the file extension .jpa) must also be in order for Kickstart to boot. If you have not downloaded the file locally, find the JPA file below PluginsAkeebabackupcore-App-Backups-mittnavn.jpa.
---
3. Start Akeeba Kickstart
Go to the address http://www.mittnavn.no/kickstart.php to start the installation.
---
4. Kickstart guidance
In the next window you will get a little tutorial, you can click at the bottom to move on.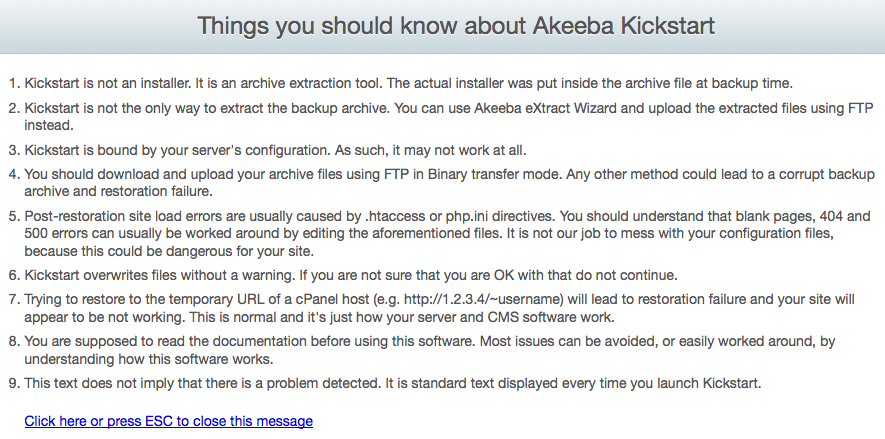 ---
5.Unpacking files
Go straight to point 4 and press "Start".
---
6. Start the installation
Click on "Run the installer".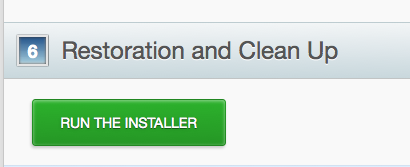 ---
7. Information about your backup
Here you can see the details of your backup. Press Next to continue.

---
8. Database details
In this window you will see your database information. If you want to use a different database than the original, these details must be changed. If you move to our webhotell, then you should create a new database and use this database information. Press Next to continue.
---
9. Receipt of database import
Click "Next" to get to the next step.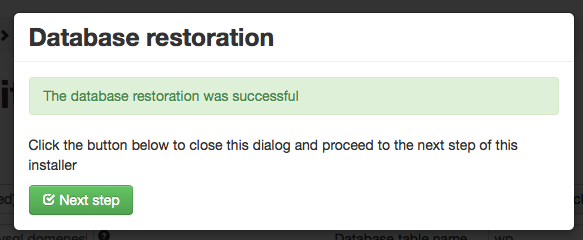 ---
10. Site parameters
Here you can review your site parameters and change the installation URL if needed.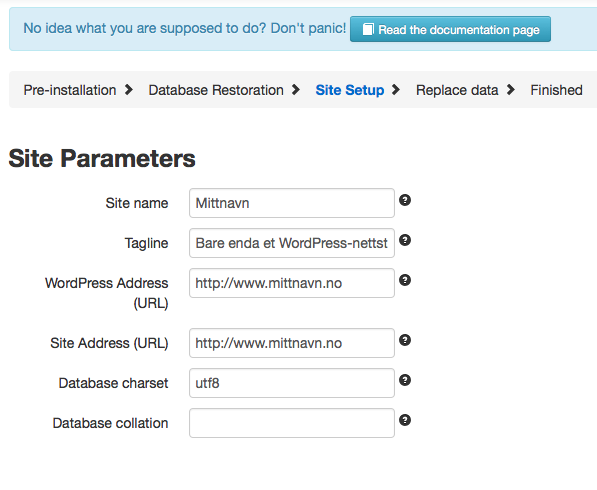 ---
11. Finished
The installation is complete and your website shall be visible.

---
See also: