Frequently asked questions
How to upload files with CoreFTP for Windows?
CoreFTP is an FTP program for Windows. It can be downloaded for free here:
coreftp.com
.
CoreFTP comes for Windows only. For Mac, see How to upload files with Cyberduck for Mac?.
How to connect
This is the start screen in CoreFTP. To get started, click "File", then "Connect". Or alternatively, click the icon "Site manager" in the top left corner:
This will open a new window where you can enter the settings for your webhotel.
In the field "Host", enter ftp.domeneshop.no.
Fill in the username and password for your webhotel.
If you need to reset your FTP-password, please see I have forgotten my FTP password. How can I retrieve it?
In the pulldown-menu labelled "Connection", we recommend that you choose "AUTH TLS". It is also possible to use regular FTP, but then your password will be transferred unencrypted, which we do not recommend.
Click "Connect"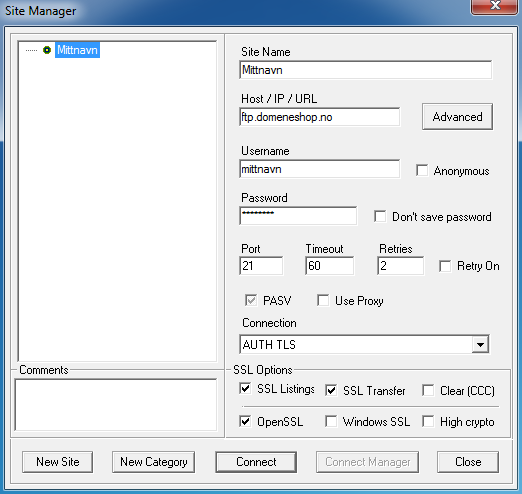 When you have successfully connected to the webhotel, the contents of your webhotel will be listed in the area to the left, and the contents of your local computer will be listed in the area to the right. A new webhotel will contain a folder named "www", and inside it there will be a file named "index.html". When you upload your own contents you should place it inside the www-folder, overwriting the existing index.html.
How to upload files
To transfer files, drag and drop them from from one side to the other. This will transfer files or folders between your webhotel and your local computer, in a similar way that you may move contents from one folder to another locally on your computer.
See also: