Frequently asked questions
Hvordan endrer jeg fullmektig/betalingskontakt for et .dk-domene?
If you have received an invoice from DK Hostmaster, but you want to be invoice by Domeneshop instead, you must login on the DK Hostmaster web site and change the billing contact for the domain in question. In addition we must be listed as proxy-contakt ("fullmektig") for the domain if it uses our name servers. In som situations, like holder changes, these settings are automatically altered, and must be manually corrected back to these settings by the domain owner. These settings are avalaible on DK Hostmaster's web pages here:
Login with your user-ID og accompanying password (which was sent to the registrant/domain holder be e-mail on the time of registration). If you don't have the password or the user-ID, please use the links below the login form to have them re-sent to you.
When logged in, press Vælg → Skift betaler
---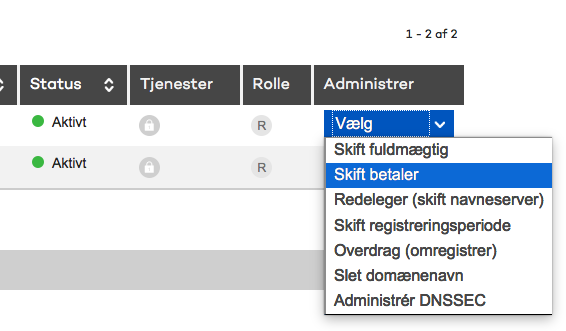 ---
Then add our user-ID: HA3476-DK
Note: Please check that the registration period is set to 1 year. We will not accept becoming billing contact for domains where the registration period is not set to 1 year. You can check this under Vælg → Skift registreringsperiode
---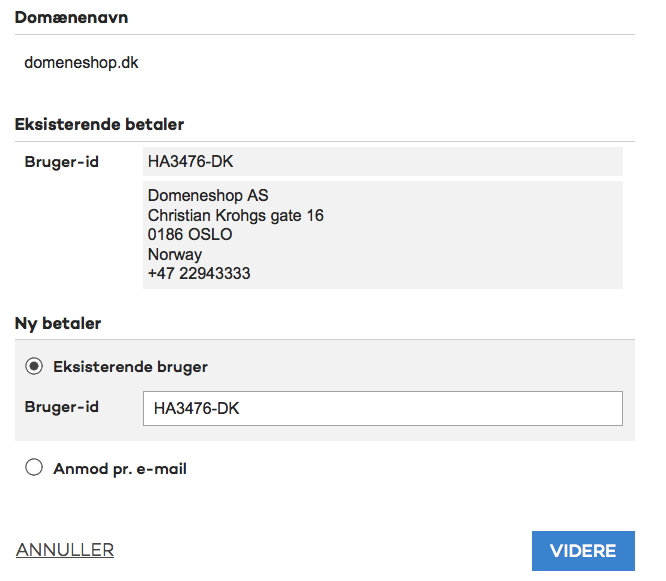 ---
Press Videre to confirm the changes. You will receive a confirmation e-mail from DK Hostmaster when the change has been performed.
In order to change the proxy contact for the domain ("fullmektig"), do the same change as above under Vælg → Skift fuldmæktig